CalDigit is a well-known brand in the technology industry that specialises in manufacturing Thunderbolt docks and other high-performance storage and connectivity solutions.
The company has a rich history of innovation and has consistently provided cutting-edge tech solutions to meet the evolving needs of users.
History
CalDigit was founded in 2005 in Placentia, California, with a focus on delivering high-quality storage and connectivity solutions for both professionals and consumers. Over the years, the company has made significant strides in the industry, earning a reputation for reliability and innovation.
Evolution of Tech Solutions
CalDigit has continually evolved its tech solutions to keep pace with the ever-changing demands of users. They started with storage products like external hard drives and RAID systems, catering to professionals in need of robust data storage solutions. As the technology landscape advanced, CalDigit expanded its product lineup to include Thunderbolt docks, providing users with versatile connectivity options. These docks have become indispensable tools for creatives, professionals, and anyone seeking to expand the capabilities of their laptops and desktops.
Best-Selling Product – CalDigit TS4
One of CalDigit's best-selling products is the CalDigit TS4 Thunderbolt 4 dock. The TS4 is a versatile docking station designed to enhance productivity and streamline connectivity for users. With Thunderbolt 4 technology, it offers blazing-fast data transfer speeds and supports up to two 4K displays, making it an ideal choice for professionals working on graphics-intensive tasks or multi-monitor setups.
Key Features of the CalDigit TS4 Thunderbolt Dock:
Thunderbolt 4 Connectivity: Offers Thunderbolt 4 ports for lightning-fast data transfer and power delivery.
Dual 4K Display Support: Supports dual 4K monitors for an immersive and efficient workspace.
Versatile Ports: Equipped with a variety of ports, including USB-C, USB-A, HDMI, DisplayPort, and more, ensuring compatibility with a wide range of devices and peripherals.
100W Power Delivery: Charges your laptop while connected, reducing cable clutter and keeping your workspace organized.
High Build Quality: CalDigit is known for its durable and reliable products, and the TS4 is no exception.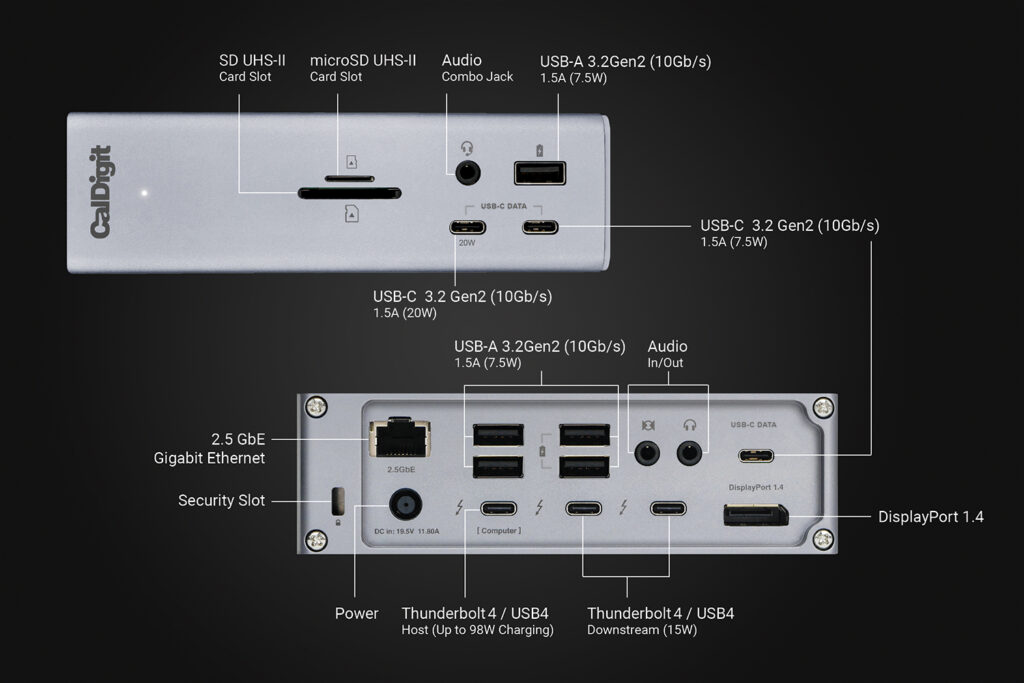 CalDigit is a reputable brand known for its Thunderbolt docks and tech solutions. With a history of innovation and a commitment to meeting the needs of professionals and consumers alike, CalDigit continues to provide reliable and cutting-edge products. Contact us to find out more about CalDigit products.