CalDigit specialize in storage solutions for the creative professional.
Their Hard Drives are designed to provide users with reliability, performance, style and flexibility. 
CalDigit design, build and assemble all of their products which results in the ability to provide users with unparalleled support and service.
CalDigit Product Overview
Desktop Hard Drive - AV Pro 2
The CalDigit AV Pro 2 is a professional single disk desktop drive with a removable (hot swappable) drive module.
The AV Pro 2 chassis can accept CalDigit 3.5″ HDD and SSD drive modules.
The removable drive module is useful for quickly moving data between edit suites or studios. You simply remove the drive module, put it in a Caldigit protective case for transport and plug it into to another AV Pro 2 chassis at the other site.
It's also useful should you wish to archive the data on the first drive and buy another module to use, instead of buying a whole new drive you just buy replacement modules.
The drive modules can also be read in CalDigit T4 chassis when running in JBOD mode.
The CalDigit VR2 is a dual drive RAID system. The true hardware RAID provides an independent CPU and dedicated cache memory to manage the RAID volume. This dedicated processor eliminates additional strain from the host system's CPU, allowing applications full access.
The Caldigit VR2 can be configured in:
RAID 0 for maximum performance (data is striped across both disks so appears as one volume – fast).
RAID 1 provides protection (disk 1 mirrors disk 2, so you have dual backup – secure).
JBOD for separate disks without the need of a RAID (both disks mount separately and are independent).
The easy to read front LCD screen provides the user with essential drive status information and can also be used to configure the RAID without the need to attach the VR2 to a computer. The CalDigit VR2 interfaces are dual Firewire 800, USB3.0 and eSATA.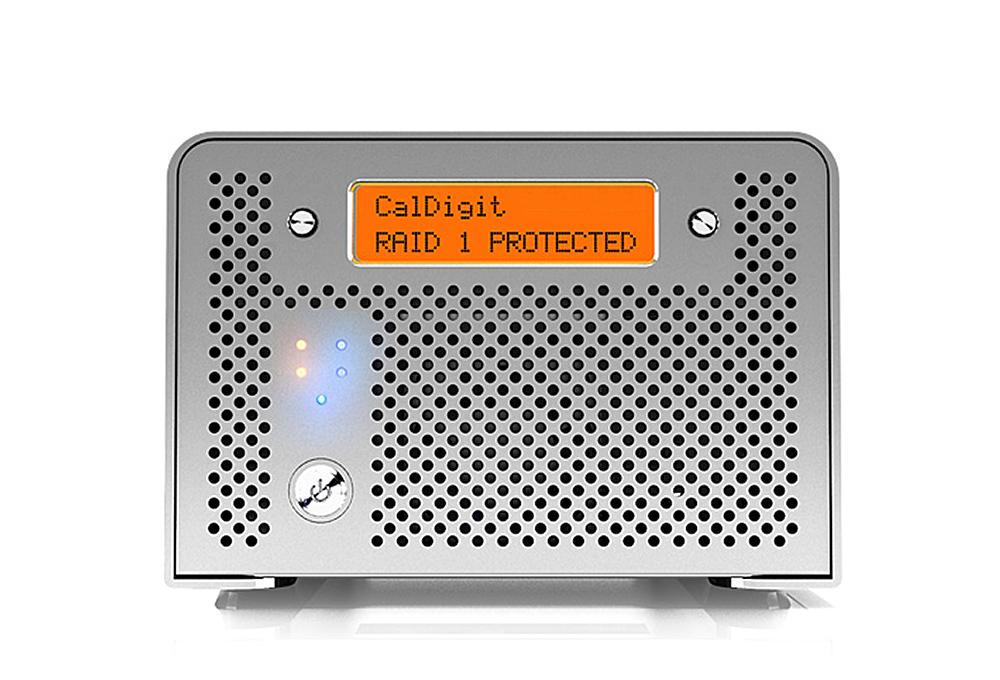 2-Bay Portable RAID - VR2 Mini
The CalDigit VR2 Mini is a smaller (portable, bus powered) version of the above Caldigit VR2 desktop. It contains two 2.5″ SATA drives inside which are both removable.
It has many of the same features as the desktop version i.e Hardware RAID, configurable in RAID 0, RAID 1 and JBOD, removable drive modules and an LCD Screen. If connecting via Firewire 800 the unit does not require mains power however it does when using USB 3.0. The VR2 Mini is currently available in 4TB (2 x 2TB).
CalDigit T4 - 4-Disk RAID
The Caldigit T4 is the big brother of the now discontinued T3. The T4 is ideal for editing 4K video or for use as a high speed, high capacity storage device with RAID-5 redundancy.
As the name suggests the T4 is a 4-bay RAID solution. It has dual thunderbolt 3 for high speed transfer and daisy chaining. The Caldigit T4 supports RAID 0, 1, 5 and JBOD. The flexible 4-bay design allows users to have two RAIDs in one unit.
On top of all these great features, the T4 features an industry leading 5 year warranty that is also backed up by CalDigit's world renowned technical support.
CalDigit Docking Station / Hubs
As well as manufacturing stylish professional hard drives Caldigit also make some very useful accessories including the Thunderbolt Station 3 (TS3+). A Thunderbolt 3 hub with 15 ports of connectivity. Ideal for use with the MAC Book Pro 2016+ and voted best thunderbolt hub in Wirecutter magazine.
We stock the range of replacement drive modules for VR2, AV Pro 2 and T4 drives which come in a shock proof carry case.
You can also but the Caldigit protective case on it's own which is useful for storing any manufactures drive modules.