LaCie provide a wide range of storage solutions to satisfy the demands of everyone from content creators and media professionals to businesses and everyone in between.
Owned by Seagate since 2012, LaCie continue to develop new and innovative storage solutions utilizing the latest technologies.
You can check out their latest products at our Central London store or browse our extensive LaCie catalogue via our LaCie on line shop.
LaCie Hard Drives
Mobile – Rugged and Porsche
The LaCie Rugged Hard Drive is one of our most popular mobile hard disks. The Rugged is designed with life on the road in mind. As its name suggests, the Rugged Hard Drive has been built to withstand the slings and arrows that may befall a "travelling" drive.
It conforms to military standard 810-F and can support drops from up to two meters. It helps you carry your files with confidence, no matter where the road takes you, thanks to its shock-absorbing sleeve, aluminum anti-scratch casing, internal rubber bumpers, and a 1000G shock-resistant hard drive.
Interface options available:
Rugged RAID 4TB
The Rugged now goes up to 4TB!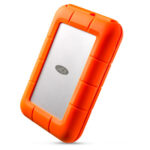 The LaCie Rugged RAID had two 2TB drives inside which can be configured to RAID 0 (for speed) and RAID 1 (to create a mirrored backup).
The Rugged RAID is bus powered when using the Thunderbolt and requires mains power when using the USB 3.0 port. This is one of the highest capacity mobile drives on the market so is ideal for working "in the field" or travelling if you require high capacity storage.
LaCie Porsche
The LaCie Porsche is ideal for those who perhaps want a slicker mobile drive with its stylish solid aluminum casing. Available as an SSD (120GB or 250GB) or a standard disk in 500GB, 1TB and 2TB.
SSD (Solid State drives)
LaCie offer two external solid state drive solutions.
The interface on the Little Big Disk is dual Thunderbolt 2 (faster than Thunderbolt 1). It can easily be daisy chained with other Thunderbolt devices. In RAID 0 it is capable of speeds up to 1375 MB/s, ideal for 4K video editing.
Desktop d2 range
The LaCie d2 is a rock solid professional external hard drive. The d2 range from capacities of 2TB up to a massive 5TB on a single disk (6TB as USB only).
LaCie d2 hard drives are available with various interface options. The traditional LaCie d2 Quadra has dual Firewire 800, USB 3.0 and eSATA (right).
The newly designed d2 (below) is available with USB 3.0 only or dual Thunderbolt2 and USB 3.0 connections. This product gives the best of both worlds. You can take advantage of the high speed Thunderbolt 2 connection and daisy chain with up to 5 other Thunderbolt devices. For non Thunderbolt computers you can use USB 3.0 which is also backwards compatible with USB 2.0.
Desktop RAID: 2big, 4big, 5big, 8big
LaCie manufacture a wide range of external RAID drives. They range from 2-bay (2big Quadra or 2big Thunderbolt2) which are configurable to RAID 0 and RAID 1. Ideal for video editing on RAID 0 (for speed) or archiving footage on RAID 1 which creates two mirrored back ups. The drives can be removed from the chassis should you wish to upgrade the unit.
Next up is the 4big Quadra (4-bay RAID 0, RAID 5), then the 5-bay – LaCie 5big Thunderbolt2 which is ideal for editing 4k video.
The 8big Rack Thunderbolt2 is a high capacity 1U rack-mountable unit designed for 4K video editing with speeds up to 1330MB/s.
Support
LaCie provide a free phone number for after sales technical support.
If the worst should happen they also have a data recovery service called d2 data recovery and an out of warranty repair service.
If you are unsure which LaCie drive is suitable for your needs please call (0207 291 0890) or email us via our contact page for expert technical advice.