The Avastor range of hard drives are aimed at the professional user, whether you are a Video Editor, Audio Engineer, Photographer or anyone else who requires a dependable and robust portable storage medium.
Desktop – HDX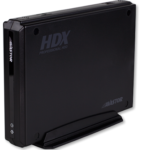 The Avastor HDX1500 is Avastors professional desktop drive. The HDX is built using only the highest quality components and features Oxford chip sets and a fan cooled, earthed internal power supply. So there's no need for a propriety power supply – all that's needed is a kettle lead.
The HDX1500 is available in 500Gb, 1TB, 2TB, 3TB and 4Tb capacities. The Avastor HDX Professional Hard Drive comes supplied in it's own lockable anti-shock carry case and is covered by a no-quibble manufacturers warranty. The HDX chassis has a unique "screwless" design meaning it can be opened by sliding the lid forward to access the SATA drive inside and internal components. This is in case you needed to replace the drive, power supply or bridge board and is a great feature as it saves time having to mess around with screw drivers. This is demonstrated in the video below.
The Avastor HDX-1500 has FW400, 2x FW800, USB3 and eSATA interfaces.
Mobile – PDX800 

The Avastor PDX range are portable bus powered drives available in 500GB – 1TB as a 7200rpm SATA II HDD or 256GB – 1TB as an SSD drive. The PDX800 uses the Oxford 943 chipset and is designed to run at a low operating temperature. The PDX unit has Avastor Armour included to reduce effects from accidental drops. The interfaces on the PDX800 are FW800 (x2) and USB3.
Mobile RAID – XMR
The Avastor XMR is a portable bus powered RAID drive which is fitted with 2x 2.5″ SATA II HDD drives and is also available with dual SSD drives. The RAID can be configured to RAID 0, RAID 1 or JBOD using RAID Master software. The interfaces on the XMR are USB2, FW800 (x2) and eSATA.
Desktop RAID – XD5

Avastors XD5 is a 5-bay RAID tower which can be configured in the following RAID Modes: 0, 1, 3, 5, 10, SPAN and Independent via hardware RAID controller. This RAID is configured by adjusting switches on the rear of the unit.
The advantage with the XD5 over other RAID drives on the market is the fact it can take the 3.5″ SATA drives on their own without the need to fit them to a tray or proprietary casing. The drives just slot in the chassis with ease which are then locked in with a key. The XD5 has easy to read LED indicators for power, HDD activity and RAID status.
The XD5 is available un-populated or up to 20TB with 5 x 4TB drives inside.
Every unit ships in a StoragePak, a heavy duty, foam-lined shipper case – great for carrying off site whilst protecting the unit from physical damage.
For full product specifications and manuals please visit www.avastor.com