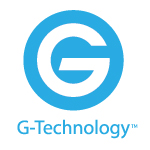 G-Technology, part of the Hitachi Global Storage Technologies family, manufactures the industry's most comprehensive line of external disk storage solutions designed for professional content creation applications.
G-Tech's mission is to provide the creative community with quality products that incorporate superior industrial design, functionality, usability and performance at affordable prices.
DataStores stock everything from the portable G-Drive Mobile and ev RaW to the ever popular G-Drive and G-RAID desktops through to the latest high speed RAID Solutions – G-Speed Shuttle XL Thunderbolt (and everything in between)!
Visit our Central London shop or order G-Technology online for Next Day Delivery.
To help you decide which G-Technology Hard Drive is best suited to your needs please read below for an overview on G-Technology products.
---
G-Technology Hard Drive Overview

G-Technology Mobile Hard Drives
G-Technology ev RaW / ev Raw SSD
The 'G-Tech ev RaW' HDD (ev stands for evolution) is part of the G-Technology Evolution Range. The 'ev RaW ' is a BUS powered, 7200rpm, USB 3.0 drive with a rugged bumper so ideal for working in the field. If you still need to connect via Firewire 800 you can purchase the ev series SATA to FW800 adaptor which will give you two FW800 ports use.
The 'ev RaW' is also available as a 500GB or 1TB SSD (solid state drive) which provides read/write speeds up to 425MB/s!
G-Technology ev ATC 
G-Technologies ATC range are the above 'ev RaW' Drives but housed within a protective All-Terrain-Case.
The All Terrain Case is:
shock proof
water proof
dust resistant
humidity resistant
G-Technology ATC drives are ideal for working within the field and extreme locations due to the robust protective case. The 'ev RaW' drives are removable from the ATC case and the ATC case is available in two interface options.
G-Technology ATC with Thunderbolt
G-Technology ATC with USB 3.0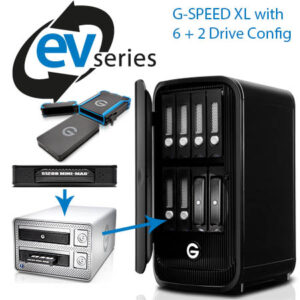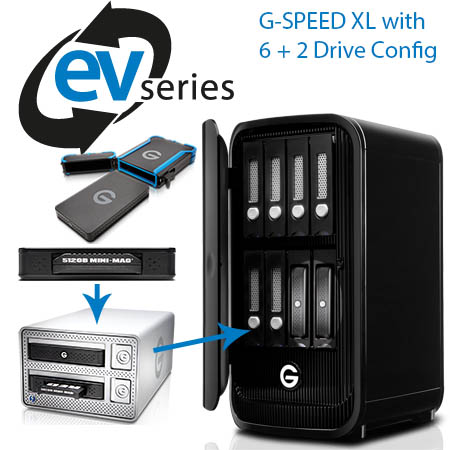 Evolution Series Compatibility: G-Dock and G-Speed Shuttle XL ev
The 'ev RaW' HDD/SSD' will slot inside the 2-bay 'G-Dock' RAID enclosure allowing you to read/write to the disk with the faster Thunderbolt interface. You can also slot a second 'ev' drive in the G-Dock and configure the drives in RAID 0, RAID 1 or JBOD.
The 'ev RaW' will also slot in the 'G-Speed Studio XL ev' 8-Bay RAID (pictured right). This allows you to quickly transfer rushes captured on a film shoot from the 'ev RaW' on to your RAID for editing.
Also available is a Red Camera Card reader which will fit in to the 'ev' series enclosures.
G-Drive Mobile
The G-Technology G-Drive Mobile drives are fast portable storage solutions which offer great value for money. These drives are slim, light and great for carrying your music/video/photos around.
The G-Drive Mobile USB is currently available in 500GB, 1TB, 2TB and 3TB and ship with USB 3.0 or USB-C connection.
G-Technology Mobile Thunderbolt and USB3.0
This is a BUS powered, 7200rpm hard drive with detachable Thunderbolt and USB 3.0 cable. Provides up to 136MB/s read/write so ideal for working with audio and video in the field.
---
G-Technology Desktop Hard Drives
The ever popular G-Technology G-Drive has a rock solid, brushed aluminium housing with advanced heat sink technology to keep the drive cool whilst you work away in to the night. There is also now a slimmer G-Drive with USB only called G-Drive USB.
G-Drives are are now available up to a whopping 12TB and ship in the following capacity/interface combinations.
G-Drive Thunderbolt and USB 3.0 – 4TB, 6TB, 8TB and 10TB.
G-Drive USB 3.0 only – 2TB, 4TB, 6TB, 8TB and 10TB.
G-Drive USB-C only – 4TB, 8TB and 10TB.
G-Drive Thunderbolt3 and USB-C –  4TB, 6TB, 8TB, 10TB and 12TB.
---
G-Technology RAID Solutions
G-RAID with Removable Drives
G-RAID is a 2-Bay storage solution configurable in the following RAID modes:
RAID 0 (Fast): Data is striped for editing.
RAID 1 (Secure): The disks are mirrored for dual backup.
JBOD: Both drives are independent and mount separately on the desktop.
The G-RAID contains two fast, 7200rpm Enterprise Class HGST drives and is available in the following configurations:
G-RAID Thunderbolt2 and USB 3.0: 8TB, 12TB, 16TB and 20TB.
G-RAID Thunderbolt3 and USB-C: 8TB, 12TB, 16TB, 20TB and 24TB.
G-Technology G-Speed Shuttle XL RANGE
The G-Tech' Shuttle range come in 4-Bay and 8-Bay versions and are aimed at video editors working with 4K+ footage. There are various models explained briefly below.
G-SPEED Studio XL ev – 8-Bay RAID but two slots are reserved for either Mobile ev drives or the ev RED MINI-MAG Reader.
G-SPEED Shuttle XL ev – Like the above but the unit is contained within a solid carryable case. Ideal for transporting in the field.
---
G-Technology Hard Drives For MAC
All G-Technology hard drives are formatted for MAC "out of the box" and are Time Machine compatible. Simply plug the drive in to your MAC and the G-Tech Icon will appear on the desktop.
Using PC? 
G-Technology Hard drives are 100% compatible with PC (Windows 7 and above) and can be formatted for Windows/PC systems in Disk Management. For further instructions please follow these guides on the G-Technology Website.
Formatting G-Technology Using Windows 8
Sometimes on PC, the G-Technology Drive will not show in the finder due to the way it has been pre-formatted for MAC. This is simply a software issue and can be resolved by performing a disk clean process. After 'disk clean' has been performed the G-Tech drive can be initialised and formatted in disk utility. Instructions can be found in the link below.
Formatting G-Technology Drives on Windows 7
G-Technology Warranty and Support
All G-Technology products come with a 3 year limited warranty and un-limited free technical support via email or telephone. If you have purchased your product from DataStores we are also able to provide technical support and process RMA's.
All product manuals and full product specifications can be downloaded here.
G-Technology UK Shop at Datastores.
G-Technology and DataStores
Datastores are an Authorised Official G-Technology supplier and we specialise in their storage solutions. Should you require any further information or technical support please visit our Central London Store (W1T 4PR), call our sales team on 0207 291 0890 or use our online contact form.