G-Technology, part of the Western Digital Storage Technologies family, manufactures the industry's most comprehensive line of external disk storage solutions, designed for professional content creation applications.
G-Tech's mission is to provide the creative community with quality products that incorporate superior industrial design, functionality, usability and performance at affordable prices.
To help you decide which G-Technology Hard Drive is best suited to your needs, please read below for an overview on the most popular G-Technology products we supply.
G-Technology Mobile Hard Drives
ev RaW
The 'G-Tech ev RaW' HDD (ev stands for evolution) is part of the G-Technology Evolution Range. The 'ev RaW ' is a BUS powered USB 3.0 drive with a rugged bumper so ideal for working in the field. The 'ev RaW' is also compatible with USB-C and has an additional SATA port enabling it to be inserted into the G-Dock or G-Speed Shuttle RAID Chassis.
Available in 1TB, 2TB and 4TB.
Armor ATD (All-Terrain-Disk)
The Armor is a Rugged, 'All Terrain' Mobile Hard drive designed for travelers, outdoor photographers and film makers. It has a strong aluminium chassis with a rubber bumper making the unit rain, dust and shock resistant. Compatible with USB-C, Thunderbolt-3 and USB 3.0.
Available in 1TB, 2TB and 4TB.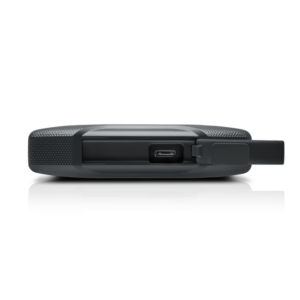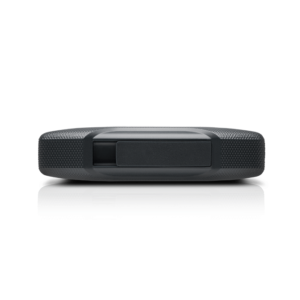 G-Drive Mobile SSD R-Series / G-Drive Mobile Pro SSD
For ultra fast data transfer speeds we recommend the SSD R-Series with USB-C which provides transfer speeds up to 560MB/s. 
OR the G-Drive Mobile Pro SSD with Thunderbolt-3 which has superier speeds of up to 2800MB/s. Edit 8K footage on the move!
As SSD's have not moving parts they are much more resilient so ideal for use when travelling or working in "in the field".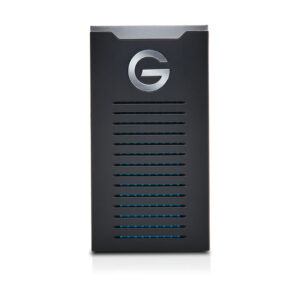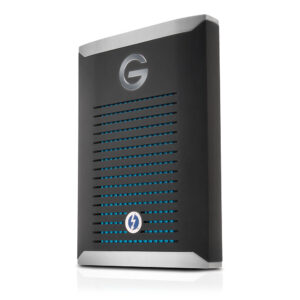 G-Technology Desktop Hard Drives (Single Disk)
G-Drive
The ever popular G-Technology G-Drive has a rock solid and stylish brushed aluminium chassis containing an enterprise class, 7200RPM, HGST disk.
The G-Drive is currently available in two versions.
G-Drive USB 3.0 (3 years warranty)
G-Drive Thunderbolt-3 & USB-C (5 years warranty)
Available capacities range from 4TB up to 14TB!
G-RAID (2-Bay)
G-RAID is a 2-Bay storage solution configurable in the following RAID modes:
RAID 0 (Fast): Data is striped for editing.
RAID 1 (Secure): The disks are mirrored for dual backup.
JBOD: Both drives are independent and mount separately on the desktop.
G-RAID contains two removable, 7200rpm Enterprise Class HGST drives with Thunderbolt-3, HDMI and USB-C IO's. 
Available in capacities ranging from 8TB – 28TB.
G-Speed Shuttle / Shuttle SSD / Shuttle XL
The G-Speed Shuttle is geared towards video editors who require fast access speed for 4-8K video editing, high speed data transfer (on set), redundancy and high capacity. G-Speed is available in the following configurations:
G-Speed Shuttle: (4-Bay) with 4 x 3.5″ HDD, speeds up to 1000MB/s.
G-Speed Shuttle SSD: (4-Bay) with 8 x SSD for speeds up to 2800MB/s!
G-Speed Shuttle XL ev: (8-Bay) with 6 x 3.5″ HDD's, speeds up to 1500MB/s.
G-Speed Shuttle XL: (8-Bay) with 8 x 3.5″ HDD's, speeds up to 2000MB/s.
Capacities range from 24TB – 112TB.
G-Speed has 2 x Thunderbolt-3 ports for working with the latest MACS and will allow for daisy chaining.
Configurable in multiple RAID modes via the G-Speed RAID management software. The G-speed can be configured in: RAID 0, RAID 5, RAID 10, JBOD. 
The ev version has ev Bay adapters which take G-Tech' ev card readers including: Atomos, RED-MiniMag, CFAST and ev RaW mobile hard drives.
MAC and PC compatibility
G-Technology hard drives are formatted for MAC OS X "out of the box" and are Time Machine compatible. Simply plug the drive in to your Apple MAC computer and the G-Technology icon will appear on the desktop, ready to use.
Using PC? 
G-Technology Hard drives are compatible with PC (Windows 7 and above). They can be re-formatted for Windows/PC systems in Disk Management. For further instructions please follow these OS specific guides on this G-Technology support page. Or use the G-Technology PC formatting software on this G-Technology page.
Cross Platform?
If you are transferring data between MAC and PC you can leave the HDD formatted for MAC and install HFS+ for Windows by Paragon, or format them as ExFAT but we do not recommend using ExFAT.
How To Install HFS+ for Windows
G-Technology Warranty and Support
G-Technology USB 3.0 products come with a 3 year limited warranty and Thunderbolt 3 products have a 5 year warranty period. All products come with un-limited free technical support via email or telephone. If you have purchased your product from DataStores we are also able to provide technical support and process RMA's.
All product manuals and full product specifications can be downloaded here.
G-Technology and DataStores
Datastores are Premier Partners with G-Technology and we specialise in G-Technology storage solutions. Should you require any further information or technical support please visit our Central London Store (W1T 4PR), call our sales team on 0207 291 0890 or browse our G-Technology online shop.