LaCie d2 Thunderbolt 3 & USB-C (6TB – 10TB)
Description
The LaCie d2 Thunderbolt 3 and USB-C is available in the following high capacities:
LaCie 6TB d2 Thunderbolt 3 (pn: STFY6000400)
LaCie 8TB d2 Thunderbolt 3 (pn: STFY8000400)
LaCie 10TB d2 Thunderbolt 3 (pn: STFY10000400)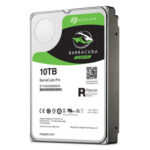 The d2 Thunderbolt 3 is ideal for use as a high capacity digital storage device for your video, music and photo library.
Enterprise Class Internal Drive
The d2 Chassis contains a single Seagate Barracuda Pro 3.5″ HDD. One of the industries leading internal disks which is fast and reliable!
Transfer Speed
When connected to a Thunderbolt 3 or USB-C computer, the d2 Thunderbolt 3 will provide fast transfer rates up to 240MB/s. Ideal for demanding audio and video applications.
Fast Interface Options
As well as two Thunderbolt 3 ports, the LaCie d2 Thunderbolt 3 has a single USB-C port. Therefore it connect to the latest Mac Book Pro which only has Thunderbolt 3. It will also connect to USB 3.0 via the USB-C to USB Type A cable.
Daisy chain up to 6 Thunderbolt 3 hard drives!
Compatibility
PC or Mac? USB-C, USB 3.0, Thunderbolt 3, Thunderbolt 2?
Whatever the OS or host port, you're covered, whether through included cables or for purchase separately.
Laptop Charging
Power your compatible laptop through a USB-C (Thunderbolt 3 or USB 3.1) port. That's one less cable cluttering up your desktop.
Cooling
The whisper-quiet fan and heat-dissipating aluminum enclosure pull heat away from the HDD, keeping it running fast and healthy.
Warranty
The LaCie d2 Thunderbolt 3 comes with a generous 5 year warranty!
Additional information
| | |
| --- | --- |
| Manufacturer | LaCie |
| Capacity | |
| Disk Type | |
| Interface | |
| Power | Mains Powered |
| Warranty | 5 Years |