CalDigit AV Pro 2 Desktop Hard Drive
Call for availability on this item.
Want to be notified when this product is back in stock?
Description
The CalDigit AV Pro 2 is an external single disk hard drive available in capacities ranging from 3TB up to 8TB.
The 'AV Pro 2' has been further developed from the 'AV Pro' adding some great new features including a USB hub and the ability to charge your laptop whilst plugged in.
Interface
The CalDigit AV Pro 2 will connect to virtually any computer both new and old. It has a single USB Type-C which will plug directly  into new Apple MAC's (or PC's) with USB-C or Thunderbolt 3 interface.
The AV Pro also has a single USB Micro B port which plugs directly into USB 3.0 port.
USB Hub
As well as the dual USB interface the AV pro also has two extra USB 3.0 ports allowing you to connect other USB peripherals including: USB Storage (e.g. USB sticks), Card Readers, Cameras and Apple Superdrives.
Transfer your 4K footage from your SD or CF card straight to the AV Pro 2 by connecting directly to the USB port (for cameras with USB connection).
You can even daisy chain another CalDigit AV Pro 2 drive into the back.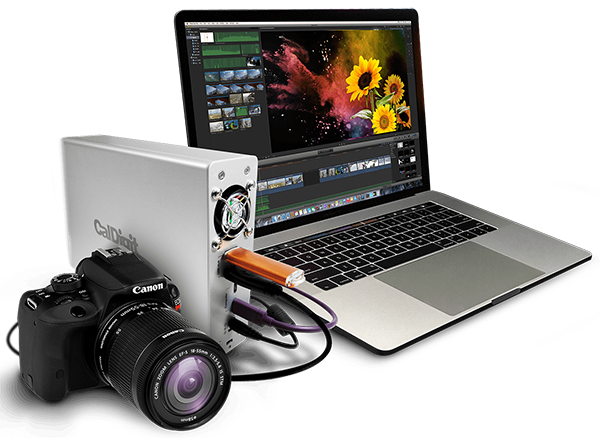 High Speed Charging
The AV Pro 2 Storage Hub's USB 3.0 ports feature stand-alone fast charging at 1.5A (7.5W), which will charge devices 133% faster than a standard USB 3.0 port and 40% faster than a typical Quick Charge USB 3.0 port, even when it is not connected to a computer.
OR connect to a Thunderbolt 3 laptop with the supplied USB-C cable to charge your laptop whilst using the drive.
Removable Drives
If you fill up your AV Pro 2 hard drive with data you wish to keep (archive), rather than buying a whole new external hard drive you can simply remove the HDD module from the AV Pro 2 chassis and buy a replacement Caldigit HDD Module.
You can archive the first drive in a secure Caldigit Hard Drive case. Continue to use the AV Pro 2 with a new hard drive inserted.
CalDigit also supply SSD Modules for the AV Pro 2 should you require high speed performance (up to 400MB/s).
Call sales on 0207 291 0890 for pricing and availability on replacement CalDigit SSD modules.
Quality Aluminium Chassis
CalDigit carries a philosophy of utilizing the best materials and components to ensure years of reliable operation and customer satisfaction. The CalDigit design team use aluminium for its outstanding heat dissipating properties, superior structural integrity, weight, aesthetics, and 100% recyclability.
CalDigit stands behind every product and aims to deliver the highest quality to everyone, even if it means reduced profits to furnish the best.
Additional information
| | |
| --- | --- |
| Manufacturer | Caldigit |
| Capacity | |
| Disk Type | |
| Interface | |
| Power | Mains Powered |
| Warranty | 3 Years |