CalDigit TS3 – Thunderbolt Station 3
Description
The CalDigit TS3 provides Thunderbolt 3 Type-C, DisplayPort, USB 3.1 Type-A, eSATA, Gigabit Ethernet, and Audio In/Out via one single Thunderbolt 3 cable.
If laptop charging and expandability is the most important factor, the TS3 is a great choice.
Charging & Expanding Thunderbolt 3 Workflows
Thunderbolt 3's ability to offer data, power and video in one cable now means that user can charge their Mac laptops with the Thunderbolt Station 3.
Featuring dual Thunderbolt 3 Type-C ports, three USB 3.1 Type-A ports, DisplayPort, dual eSATA, Gigabit Ethernet and Audio In/Out, the TS3 features a host of connectivity options.
The TS3's ability to be used in either a horizontal or vertical position allows users to choose how they display the device on their desk.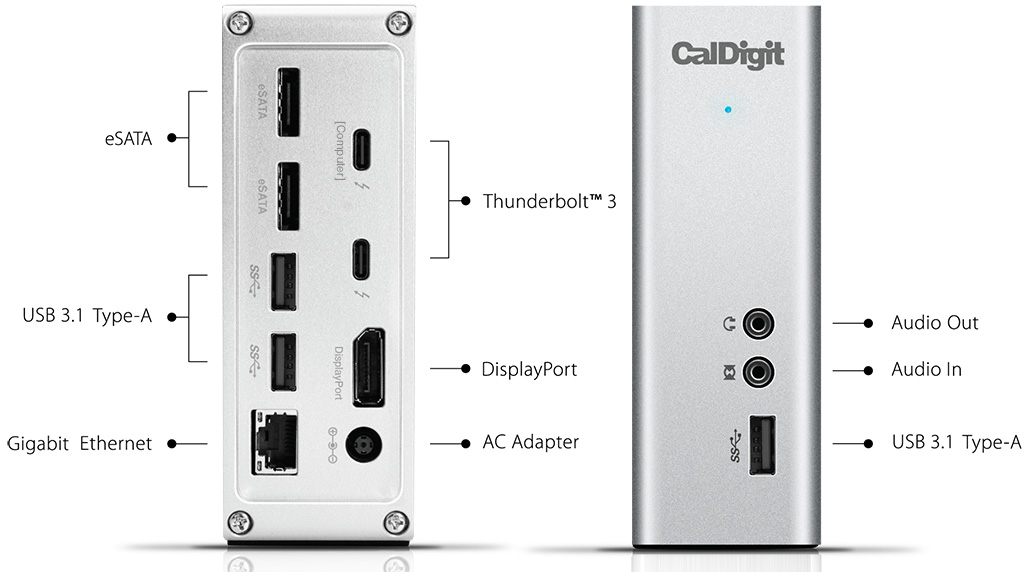 Charging
Providing up to 85W of power to the 2016 MacBook Pro, the TS3 is the central hub for not only connectivity expansion but also for *charging your laptop. No longer do you need to connect your computer's supplied Type-C charger in addition to all your other peripheral devices. Just connect the Thunderbolt™ 3 cable to your computer and you are ready to go!
Stand Alone Charging
Even when your TS3 is not on your desk powering your laptop you can use it to charge all your devices, such as iPhones or iPads, via the front USB 3.1 port. Stand Alone Charging allows users to maximize the use of their TS3 dock even when it is not connected to a computer!
Powerful Expandability
Featuring the ability to add high performance Thunderbolt 3 Type-C devices, eSATA storage, or even USB 3.1 devices, the TS3 can accommodate any professional device. Whether you need to connect ultra fast Thunderbolt 3 storage for cutting edge video applications or you just need to add a portable USB drive, the TS3 has you covered. The Gigabit Ethernet port allows users to connect to a more stable internet connection for faster file transfers. The Audio In/Out ports are a handy way to keep your speakers and microphones connected.
High Performance Display
The use of DisplayPort as the video output of choice on the TS3 allows users the ability to choose their preferred display. With use of a DisplayPort to HDMI, DVI or VGA cable, users can add any monitor they want. If you're looking to use the latest high resolution displays such as 4K@60Hz and 5K@60Hz, the TS3's use of Thunderbolt™ 3 technology has allowed this to be possible.
Dual Monitors
For users who need dual 4K monitors, they can connect a USB-C to HDMI/DVI/VGA video cable to the second Thunderbolt™ 3 port and take advantage of a dual monitor set-up.
Extended or Mirrored
Users have the option of using two monitors in either an extended or mirrored desktop.
Thunderbolt™ 3 Daisy-Chain
The dual Thunderbolt™ 3 ports allows users to daisy-chain extra Thunderbolt™ 3 Type-C devices. In fact users can connect up to 6 devices, such as the CalDigit T4 RAID, to one computer's Thunderbolt™ 3 port. This means that users can add a Thunderbolt™ 3 monitor, or any other Thunderbolt™ 3 device to the second Thunderbolt™ 3 port for added convenience.
Horizontal or Vertical
The beauty of the TS3's design allows users to choose how the device is displayed on their desk. Traditionally docks are only available in a horizontal orientation. The TS3's design is flexible and can be used in either orientation.
Additional information
| | |
| --- | --- |
| Manufacturer | Caldigit |
| Hard Drive Accessories | USB/Thunderbolt Docks |
| Interface | |
| Power | Mains Powered |
| Thunderbolt Cable | Thunderbolt 3 Cable 0.5m, Thunderbolt 3 Cable 1m, Thunderbolt 3 Cable 2m |
| Warranty | 2 Years |