CalDigit USB-C Dock
This product has been replaced by the USB-C Pro Dock –

here.
Description
What is the CalDigit USB-C Dock?
The CalDigit USB-C Dock unleashes the full potential of USB Type-C computers such as the new 2016 MacBook Pro by expanding connectivity, flexibility, accessibility, and productivity with just one USB-C cable!
Quickly connect to your monitors, keyboard, internet, USB peripherals, and charge your laptop all at once and keep working on the stuff you love?
The CalDigit USB-C Dock works like a centralized hub for all of your peripherals and devices.
Keep all wired peripherals hooked-up to the USB-C Dock on your desk. Conveniently connect or disconnect all of them at once with the reversible USB-C cable in a matter of seconds!
Laptop Charging
Charge your laptop while connected to the USB-C Dock anytime and be ready for a new work day all charged up.
Multiple Display Options
The USB-C Dock is capable of different display configurations depending on the OS used. Please check the possible configurations here.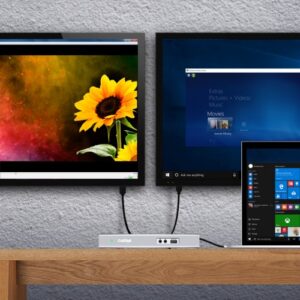 Universal Display Connectivity
Does your USB-C laptop have limited video outputs?
The CalDigit USB-C Dock provides not one, but two different types of video outputs through a single USB-C (USB 3.1 Type-C) connection.
The USB-C Dock comes with both HDMI and DisplayPort connections.
HDMI is the most popular display interface and is readily available to convert to VGA and DVI. DisplayPort takes the crown with the ability to convert to virtually any kind of display interface ranging from VGA, DVI, HDMI, to mDP.
The CalDigit USB-C Dock is the most versatile dock to include both HDMI and DisplayPort, saving you time and effort in making the right conversion with ease!
One Click Disconnect
When you have a device that brings all of your peripherals together, a convenient way to quickly disconnect all of them safely is paramount. The free downloadable CalDigit Docking Station Utility allows you to eject all attached devices with a single click of your mouse, saving you the hassle of ejecting each peripheral individually.
This powerful time saving solution makes disconnecting your CalDigit USB-C Dock from your Mac extraordinarily easy.
Apple Super Drive
CalDigit is known for it's Mac centric design and is passionate about designing products that compliment Apple devices aesthetically and functionally. While none of the other USB-C docks on the market are able to support Apple's Super Drive, CalDigit's USB-C Dock is the first to deliver such compatibility.
Shared WiFi
Mac laptops without an Ethernet port could be detrimental for those who require a reliable internet connection. The USB-C Dock brings back this missing connection and while doing so, conveniently enables the ability to share your internet over WiFi.

Interface:
3 x USB 3.1 Gen 1 Type-A Port
1 x USB 3.1 Gen 1 Type-C Port
1 x USB 3.1 Gen 1 Type-C Port (Computer Link)
1 x DisplayPort 1.2
1 x HDMI 2.0
1 x Gigabit Ethernet*
1 x Audio In & Out
Additional information
| | |
| --- | --- |
| Manufacturer | Caldigit |
| Power | Mains Powered |
| Hard Drive Accessories | USB/Thunderbolt Docks |