G-Technology G-Speed Shuttle XL 'ev Bundle' 144TB
This product has been replaced here.
Description
The G-Technology G-Speed Shuttle XL with Thunderbolt 3 offers high speed performance and massive storage capacity up to 144TB.
Chassis
Not only that but with its rock solid chassis with carry handle (and optional Peli Case), the G-Speed Shuttle XL is the ideal candidate for lugging on film sets to capture and edit film rushes.
RAID
With 8 x Enterprise Class 7200rpm disks inside the G-Speed Shuttle XL offers multiple RAID modes which can be easily configured using the G-Speed RAID configuration software (available here).
For ultimate performance, configure the G-Speed in RAID 0 for data transfer speeds up to 2000MB/s. Need a little assurance? Leave the G-Speed as it is shipped (in RAID 5) for one disk redundancy, or configure to RAID 6 for 2 disk redundancy. Many other RAID options available.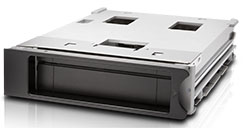 ev Bundle
The G-Speed Shuttle XL with ev Bundle ships with two spare 'ev Series Bay Adaptors'. The adapters can be inserted into one (or two) of the disk spaces and allows for any of the ev Series card readers to be inserted directly into the RAID, allowing you to offload footage from your camera card on to the RAID (computer still required).
ev Series card readers can be purchased separately (here) and include: Atomos Master Caddy, RED Mini-Mag, CFast 2.0 and ev RaW mobile HDD's and SSD's.
Thunderbolt 3
With 2 x Thunderbolt-3 IO's the G-Speed Shuttle XL offers high speed data transfer and allows for daisy chaining up to 5 other Thunderbolt devices. Attach a thunderbolt-3 monitor to the end of the chain or other Thunderbolt-3 hard drives.
Warranty
5 year limited manufacturers warranty and technical support.
Minimum Requirements:
Computer with Thunderbolt 3 interface running either: macOS 10.12+ OR Windows 10, 7 (via reformat).
Additional information
| | |
| --- | --- |
| Manufacturer | G-Technology |
| Capacity | |
| Disk Type | |
| Interface | |
| Power | Mains Powered |
| RAID Modes | JBOD, RAID 0, RAID 1, RAID 10, RAID 5, RAID 6 |
| Warranty | 5 Years |
| | |