Oracle StorageTek SL150 LTO6 Drive
The Oracle StorageTek SL150 LTO6 Drive, 30 Slot Tape Library is the ideal long term data storage solution.
Call us on 0207 291 0890 for unbeatable pricing on Oracle StorageTek LTO Drives.
Description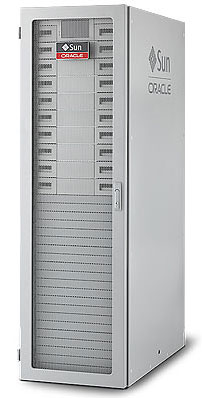 Oracle's StorageTek SL150 modular tape library is the first scalable tape library designed for growing businesses.
Built from Oracle software and StorageTek library technology, it delivers an industry-leading combination of ease of use and scalability.
Ideal for backup and archival applications, the StorageTek SL150 modular tape library saves both time and money, setting the new standard for entry tape automation.
Simple and Scalable Data Storage
The StorageTek SL150 emphasizes simplicity and reduces costs through exceptional scalability, common storage management tools and do-it-yourself installation and upgrades.
The easy-to-use remote browser GUI, built from Oracle software, helps streamline library management and allows you to perform library operations, manage library settings, and proactively monitor the library's health.
With the StorageTek SL150, simplicity begins with the library installation and continues throughout the life of the product, even as you expand for data growth. The library can be initialized in a few steps via the local touchscreen operator panel, and upgrades are easy because they require no tools, complicated cabling, or technical support.
Whether on premises or in the cloud, Oracle StorageTek solutions provide a low-cost, highly efficient infrastructure for enabling data protection and long term archiving for service providers and enterprises.

Tape Drives
StorageTek enterprise class and mid range tape drives enable robust data protection, while providing energy efficiency and decreased footprint in the data centre.
Tape Media
StorageTek data cartridges are highly durable and ensure the integrity of data for fast recovery from data loss or fast recalls from long term archives.
Tape Software and Encryption
StorageTek storage resource management, tape device software and robust solutions for data encryption and key management ensure simplicity and security across your tape infrastructure.
Call sales now on 0207 291 0890 for pricing on all Oracle StorageTek Solutions.

Additional information
| | |
| --- | --- |
| Manufacturer | Oracle |
| LTO Type | LTO 6 |
| Interface | |
| Warranty | 3 Years |