Quantum Scalar i3 LTO Tape Library
The Quantum Scalar i3 is a scalable LTO tape library that is designed for ease of use, scalability to support business growth, and efficient management and operation.
Available from DataStores, call sales for a quotation on 0207 291 0890.
Description
The benefits of using the Quantum Scalar i3 LTO tape library are:
Ease of Use
The Scalar i3 is designed for ease of use from initial setup to ongoing management. The Scalar iLayer Management Software is proven to reduce management time and improve system uptime. Library management from anywhere with a network connection on virtually any device. 
Scalability
The Scalar i3 simplified growth management with a modular design and Capacity-on-Demand (CoD) scalability. It can scale cartridge slots from 25 slots up to 200 – instantly – with CoD software licensing, providing compressed capacities from 750TB up to 6PB.
Users can add read/write performance as needed, with support for up to 12 tape drives. With the partitioning feature, Scalar i3 can provide data protection and archiving in a single library as a valuable tool to address todays IT challenges. 
High Efficiency
With features like best-in-class storage density, providing up to 1.5PB in just 3U and up to 6PB in 12U, along with 80 PLUS Certified Power Supplies, Scalar i3 enables users to reduce their tape footprint and cooling costs, ensuring savings on more than just the initial purchase.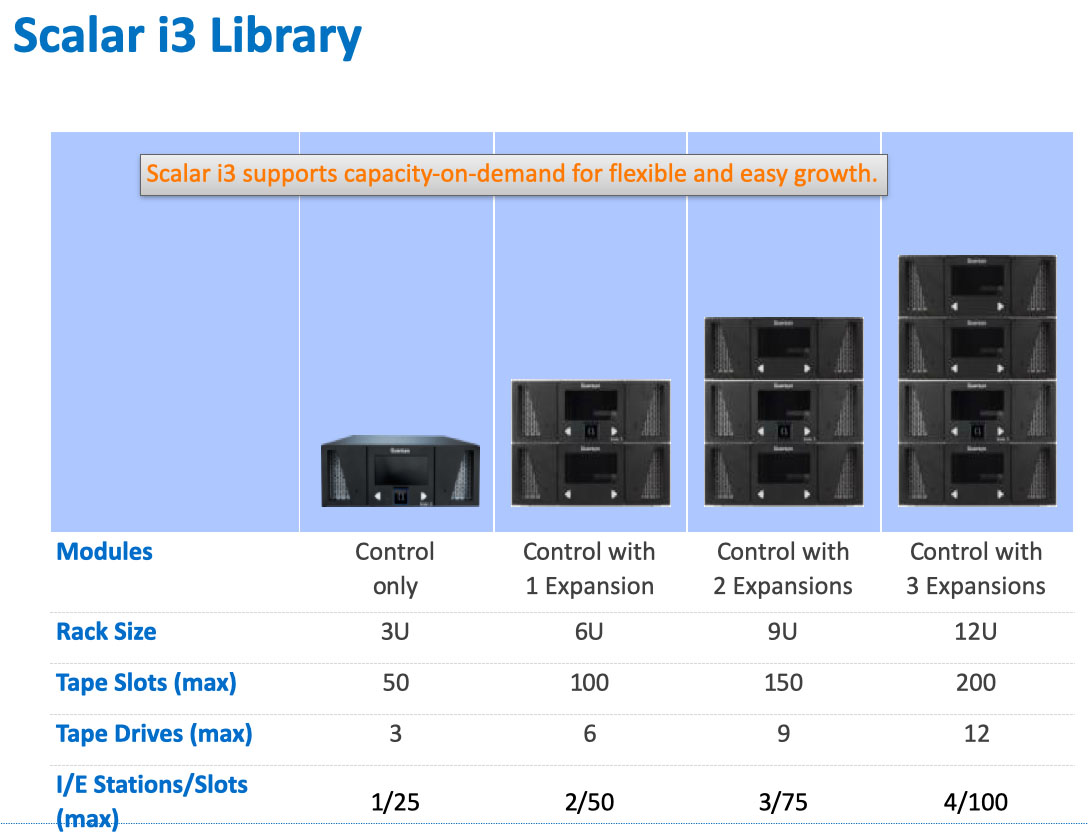 Features
iLayer Intelligent Software – streamlines system setup and management, saving valuable time.
Capacity-on-Demand (CoD) growth – simplifies storage provisioning by scaling capacity quickly and easily, without disruption.
Best-in-Class Storage Density – saves valuable datacentre footprint with the highest tape storage per rack unit.
80 PLUS Certified Power Supplies – high efficiency, green power supplies minimize power and cooling costs.
Advance Reporting – media, drive and media security reports help balance system resources, improve security, and improve budget and planning. Automated report scheduling and distribution save time.
High-Availability features – redundant power supplies and control path failover reduce downtime in the event of failure.
Proactive Monitoring & Diagnostics – resolves issues before impacting operations to maximise system uptime and minimize operational expenses.
Encryption Key Management – FIPS-validated solution with KMIP support makes it easy to manage keys, mitigating risk of lost data. AES 256-bit encryption standard provides the highest level of security.
Are you interested in the Quantum Scalar i3 for your business? Call us now for a pre-sales chat and quotation.