Quantum SuperLoader 3 (SL3) LTO Tape Library
The Quantum SuperLoader 3 LTO tape library is available from DataStores.
Invest and protect your companies future by storing your data on a Quantum LTO SL3.
Call sales on 0207 291 0890 or email us for a tailored quote.
Description
The Quantum SuperLoader 3 is an LTO tape library available in 8-slot or 16-slot configurations. Quantum are the only company to offer 16x slots.
But why invest in tape, compared to hard drives?
Greater Reliability –  The error rate of tape technology is far superior to that of disk.
Better Longevity – Tape technology enables companies to extend its storage capacities far beyond what the physics of disk technologies will allow.
Scalability – High capacities allow companies to scale on demand and grow into – not out of – their data storage requirements.
Compatibility – Backward read compatibility and compatible with ALL backup software applications (2 generations read / 1 generation write – LTO8 is the exception).
Still The Best Long Term Storage Medium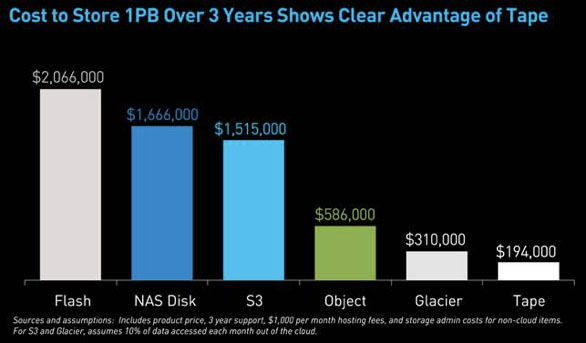 Further Advantages of LTO Tape Storage.
High Capacity – with LTO8 you can store up to 32TB on a single cartridge (M8 22.5TB 1.5x LTO7).
Fast Performance – Data can now be retrieved in a matter of seconds (LTO8 – 1180MB/s).
Lowest cost per GB – still the best long term storage medium.
Reduced Energy Costs – Tape drives use less power and generate less heat than disk drives.
Portability – Still the only medium on which you can reliably store data and move it offsite for DR purposes.
Only Offline Storage Medium – Tape creates an "air gap" whereby the data is completely offline and protected against Ransomware attacks, perfect for GDPR compliance.
Call now to discuss implementing LTO storage in to your business – 0207 291 0890.
Additional information
| | |
| --- | --- |
| Manufacturer | Quantum |
| Interface | |