Samsung T9 Portable SSD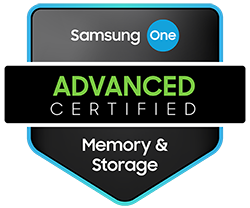 The Samsung T9 is a portable Solid State Drive featuring a USB 3.2 Gen 2×2 interface, delivering transfers speeds up to 2000MB/s – twice as fast fast the T7!
Up to 2,000MB/s read/write speeds (must have a USB 3.2 Gen2x2 to achieve maximum transfer speeds).
£123.60 – £374.40
Description
In today's fast-paced digital world, the need for reliable and high-speed storage solutions has never been greater. Whether you're a content creator, a gamer, a business professional, or simply someone who values the security of their data, the Samsung T9 SSD is here to revolutionize your storage experience.
In this comprehensive product description, we will delve into the features, benefits, and innovations that make the Samsung T9 SSD a standout choice in the world of solid-state drives (SSDs).
Unmatched Speed and Performance
The Samsung T9 SSD is engineered to provide unmatched speed and performance. With its cutting-edge NVMe technology and PCIe Gen 4 interface, this SSD takes data transfer speeds to a whole new level. Experience lightning-fast read and write speeds that can handle even the most demanding tasks with ease.
Blazing Read and Write Speeds: The Samsung T9 SSD boasts read speeds of up to 7,000 MB/s and write speeds of up to 6,800 MB/s. This means you can transfer large files, load applications, and work with high-resolution media faster than ever before.
PCIe Gen 4 Interface: The PCIe Gen 4 interface ensures maximum bandwidth, unleashing the full potential of your storage solution. It's backward compatible with PCIe Gen 3, so you can use it with older systems while enjoying future-proof performance.
Compact and Portable Design
The Samsung T9 SSD isn't just a powerhouse in terms of performance; it's also incredibly compact and portable. Its sleek and lightweight design allows you to take your data with you wherever you go, without compromising on durability.
Slim and Lightweight: The T9's slim and lightweight design makes it the perfect companion for those on the move. Slip it into your pocket, backpack, or laptop bag, and you'll hardly notice it's there.
Durable Build: Despite its compact form factor, the T9 is built to last. It's shock-resistant and can withstand the rigors of daily use, ensuring your data remains safe and accessible.
Impressive Capacity Options
Whether you're a data hoarder or a minimalist, the Samsung T9 SSD has you covered with a range of impressive capacity options to suit your needs.
Available Capacities: Choose from a variety of capacities, including 1TB, 2TB and 4TB, to store your documents, photos, videos, and games. No matter how much storage you require, there's a T9 SSD to accommodate you.
Perfect for Creatives: For content creators and professionals working with large multimedia files, the 2TB capacity offers ample space to store and edit your projects without worrying about running out of room.
Enhanced Reliability and Security
Samsung understands the importance of data security and reliability. That's why the T9 SSD incorporates advanced features to safeguard your valuable data.
Data Security: The T9 SSD supports AES 256-bit hardware encryption, ensuring that your data remains secure even if the drive falls into the wrong hands. Protect your sensitive files and personal information with ease.
Enhanced Endurance: With its advanced controller and NAND technology, the T9 SSD offers impressive endurance and reliability. It's designed to withstand continuous usage, making it an ideal choice for both professional and personal use.
Seamless Compatibility
The Samsung T9 SSD is designed with compatibility in mind. It works seamlessly with a wide range of devices, making it a versatile choice for all your storage needs.
Universal Compatibility: Whether you're using a PC, Mac, gaming console, or external storage enclosure, the T9 SSD is compatible with a variety of platforms, ensuring hassle-free connectivity.
Simple Setup: The T9 SSD is incredibly easy to set up. It comes with all the necessary cables and software, making installation a breeze. Just plug it in, and you're ready to go.
The Samsung Advantage
When you choose the Samsung T9 SSD, you're not just getting a high-performance storage solution; you're also benefiting from Samsung's decades of expertise in the technology industry.
Trusted Brand: Samsung is a globally recognized brand known for its innovation and commitment to quality. When you invest in a Samsung product, you're investing in reliability and excellence.
Industry-Leading Warranty: The T9 SSD comes with a generous warranty, giving you peace of mind knowing that your investment is protected. Samsung's customer support is also renowned for its responsiveness and professionalism.
Elevate Your Digital Experience with the Samsung T9 SSD
The Samsung T9 SSD is a game-changer in the world of solid-state drives. With its unparalleled speed, compact design, robust security features, and compatibility with a wide range of devices, it's the perfect choice for anyone seeking to enhance their digital experience. Whether you're a professional, a gamer, or a casual user, the Samsung T9 SSD will elevate your storage capabilities to new heights. Don't compromise on performance or security – choose the Samsung T9 SSD and unlock the full potential of your digital world.
Additional information
| | |
| --- | --- |
| Manufacturer | Samsung |
| Capacity | |
| Disk Type | |
| Interface | |
| Power | BUS Powered |