Sonnet ECHO 11 THUNDERBOLT 4 DOCK
Universal Thunderbolt 4 Docking Station with Four Thunderbolt 4 Ports and an 8K Display Support.
Compatible with all Thunderbolt 4 computers, all M1 Macs, and all Thunderbolt 3 Macs; also compatible with late-model Thunderbolt 3 Windows computers (see Compatibility PDF).
£420.00 inc.Vat | £350.00 ex.VAT
Available on back-order
Description
Sonnet Thunderbolt 4 Dock
Universal Thunderbolt 4 Docking Station with Four Thunderbolt 4 Ports and 8K Display Support
One Cable Peripheral Connection
Instant access – plug peripherals into the Echo 11 and connect your computer to the dock with the included Thunderbolt 4 cable.
Eleven Interfaces
Includes four Thunderbolt 4, three USB 3.2 Gen 2 Type A, one USB 2.0 Type A (charging), one RJ45 Gigabit Ethernet, and one 3.5 mm combo audio ports; one SD 4.0 card slot.
Three Thunderbolt 4 Ports for Peripherals
Connects three Thunderbolt peripherals directly (with support for daisy chaining additional peripherals). Also supports USB4 and USB 3 devices.
Powerful 10Gbps USB Type A Ports
Three USB 3.2 Gen 2 ports provide up to 7.5W of power each, supporting super fast USB NVMe SSDs at up to full speed.
Support for 4K, 5K, 6K and 8K @60Hz Displays
Depending on your computer, supports up to two 5K displays or a single 4K, 5K, 6K, or 8K display (see Compatibility PDF).
Many Display Interfaces Supported
Connect Thunderbolt 3 and USB-C displays directly. Supports HDMI, DP, DVI, and other displays with a Thunderbolt 3 compatible adapter (sold separately).
Charge Your Laptop
Provides up to 90W through the included Thunderbolt 4 cable to power and charge your laptop(2).
USB 2.0 Charging Port
Front panel USB port charges an iOS device or other device that charges via USB.
Fast SD Card Slot
Compatible with SD, SDHC, and SDXC memory cards; supports 320 MB/s read speeds with UHS-II SDXC cards.
BUILT FOR TODAY. DESIGNED FOR TOMORROW
All the connections you expect from a Thunderbolt dock plus the Thunderbolt hub you've always wanted. With this extraordinary dock, a single cable connects your laptop to your digital world. Sonnet's Echo 11 Thunderbolt 4 Dock – the universal docking station for today and tomorrow.
Directly attach three Thunderbolt peripherals – and daisy chain up to a total of 5 devices
Attach three USB devices
Connect up to two 5K displays;
or a single display up to 8K!
Connect and charge your laptop at up to 90W Power Delivery
Link to a Gigabit Ethernet Network
Plug in your headset
Charge your phone
Read your SD cards
CONNECT TO YOUR PERIPHERALS AND POWER YOUR COMPUTER WITH ONE CABLE
Plug in your monitor(s), Thunderbolt devices, USB peripherals, and Ethernet cable. Then connect them all with a single Thunderbolt cable from the dock to your computer. The Echo 11 Thunderbolt 4 Dock will even power your laptop with up to 90W of charging power. When it is time to leave, just unplug the Thunderbolt cable, grab your laptop and go.
THUNDERBOLT MULTIPLIED – TURN ONE THUNDERBOLT PORT INTO THREE
TRULY UNIVERSAL CONNECTIVITY FOR WORK AND PLAY
The Echo 11 Dock features four Thunderbolt 4 ports; one for connection/power to your computer, plus three to directly connect Thunderbolt peripheral devices (and daisy chain up to a total of 5 devices). The Thunderbolt ports also support USB4 and USB 3 peripherals. For connected peripherals using bus power, the Dock's Thunderbolt peripheral ports provide 15W per port, supporting even the most demanding bus-powered Thunderbolt and USB peripherals.
VERSATILE THUNDERBOLT EXPANSION
Perfect for Mac and Windows computers, including Apple® M1 Macs with limited Thunderbolt ports. Connect the dock and create three separate independent Thunderbolt expansion chains. Add and disconnect devices from one chain without affecting the others.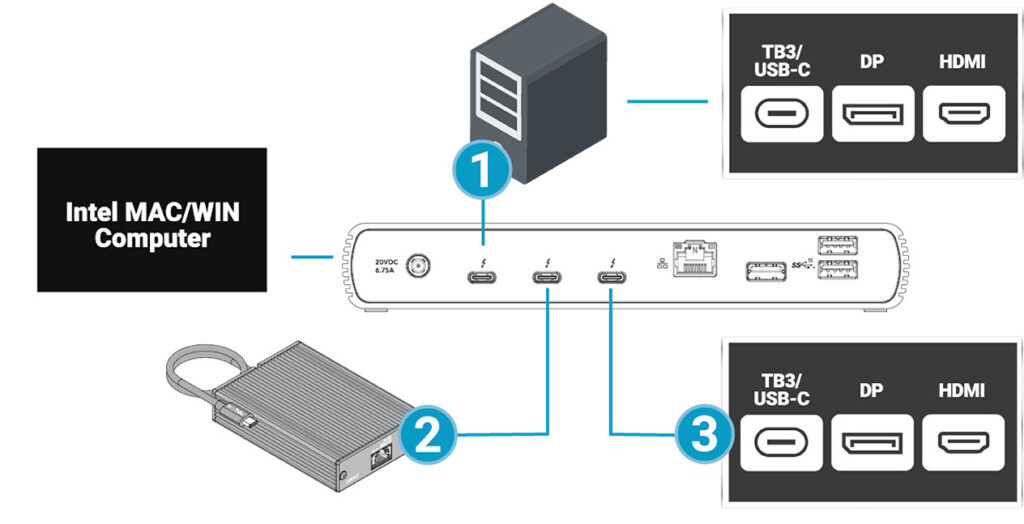 Port 1
‍Thunderbolt Desktop Raid Storage + Thunderbolt 3/USB-C or DisplayPort®/HDMI® (with Adapter) Monitor
Port 2
‍Sonnet Solo10G™ 10GbE Network Adapter
Port 3
‍ Thunderbolt 3/USB-C or DisplayPort/HDMI (with Adapter) Monitor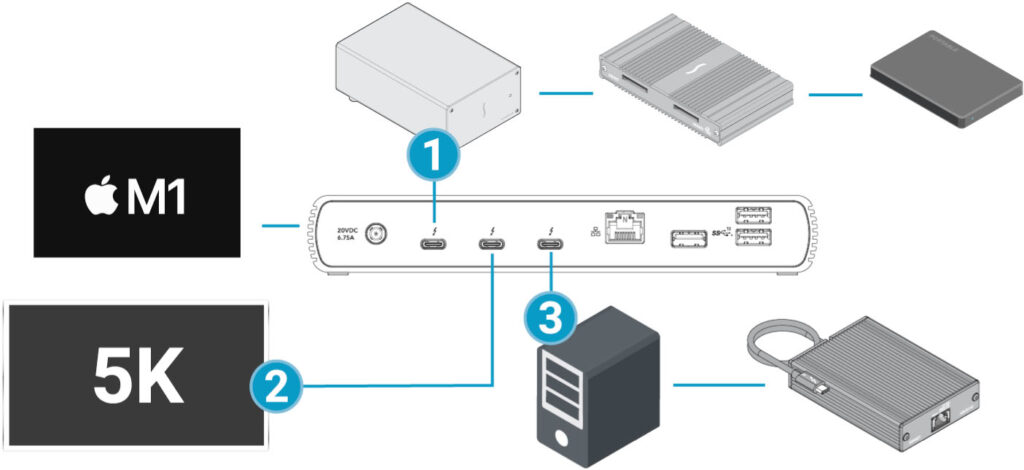 Port 1
‍Sonnet Echo Express SE I (with audio capture card) + Sonnet CFexpress/XQD Pro Card Reader + Bus-powered Thunderbolt 3 SSD Drive
Port 2
‍5K Display
Port 3
‍Thunderbolt Desktop RAID Storage + Sonnet Solo10G 10GbE Network Adapter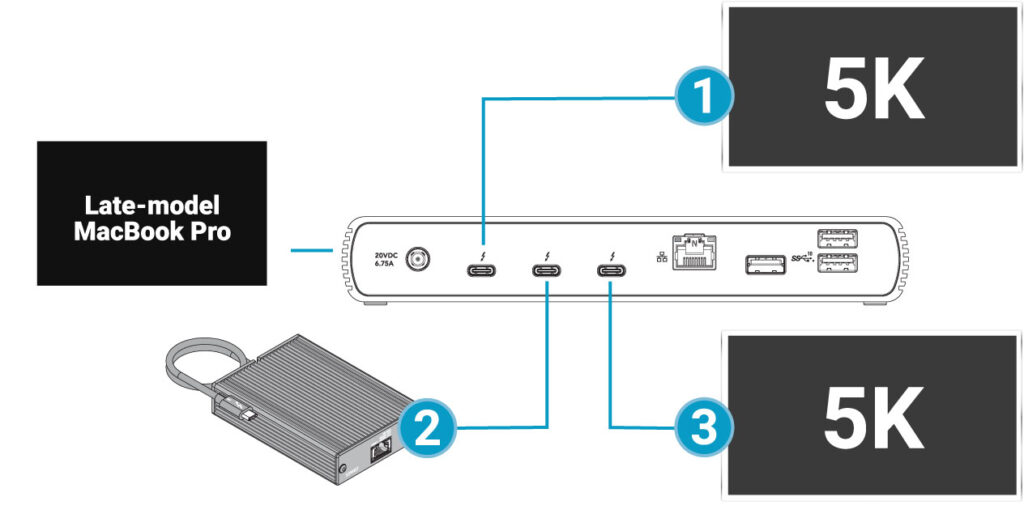 Port 1
‍5K Display
Port 2
‍Sonnet Solo10G 10GbE Network Adapter
Port 3
‍5K Display
Additional information
| | |
| --- | --- |
| Manufacturer | Sonnet |
| Interface | |
| Warranty | 2 Years |