Areca ARC-8050T3 8-Disk RAID with Thunderbolt 3
Areca 8-Disk RAID.
Thunderbolt 3 to 12Gb/s SAS RAID Storage
Contact sales to configure your Areca Storage Solution.
Email or Call 0207 291 0890. Unbeatable Pricing!
Description
Configurable with SATA or SAS hard drives.
Choose to populate with 2TB, 4TB, 6TB, 8TB or 10TB 'Enterprise Class' drives to achieve your desired capacity.
Contact sales for a quote today – 0207 291 0890.
ARC-8050T3 Overview
The ARC-8050T3 is the most complete 12Gb/s SAS 4/6(M) 8-bay Thunderbolt 3 desktop SAS/SATA RAID storage with RAID control capabilities solution for both PC and Mac.
On-Board RAID 
ARC-8050T3 incorporated on-board RAID-On-Chip and ECC SDRAM memory to deliver true high performance hardware RAID protection against drive failure. This combination helps to provide a high performance storage device perfect for the video editor working with Real time multi-stream HD and 4K workflows.
Thunderbolt 3
Thunderbolt 3 brings Thunderbolt to USB-C, creating one compact port that does it all.
Delivering the fastest, most versatile connection to any dock, display, or data device.
Daisy Chain
ARC-8050T3 is equipped with dual Thunderbolt 3 ports for connecting to any Thunderbolt 3-enabled host and offers an additional Thunderbolt 3 port for daisy-chaining other peripherals. The Thunderbolt daisy-chaining allows connection of up to six devices, so customers can connect ARC-8050T3 for massive amounts of video storage with a single Thunderbolt connection to their host computer.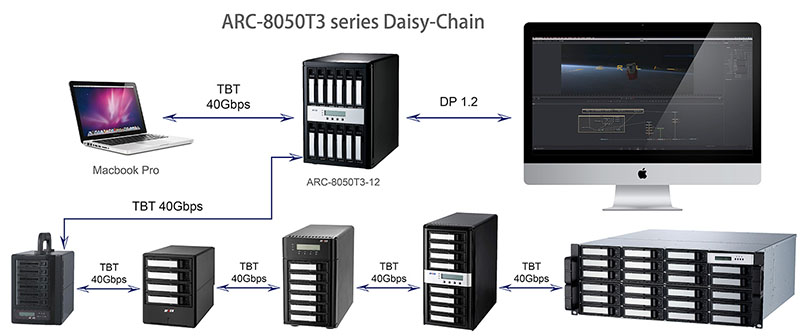 SAS Expansion Port
The ARC-8050T3-6/6M/12 storage capacity can be expanded instantly by adding additional cost effective ARC-4038 12G SAS Expander units, up to 512 drives with multiple 12G SAS expanders solutions like the 8/12 bay tower 16/24 or high bay rackmount 12G SAS JBODs solutions too!
Ultimately allow you to convert your 12G SAS expander storage to be use with any Thunderbolt 3 enabled host.
Easy Configuration and Monitor with LCD
Instantly monitor system's status as a glance
LCD is the primary user interface for the RAID storage.
All configuration and management of the controller and its properly connected disk arrays can be performed from this interface.
The LCD status panel informs you of the ARC-8050T3 RAID storage real-time operating status at a glance so users can easily grasp the status of the system at all times.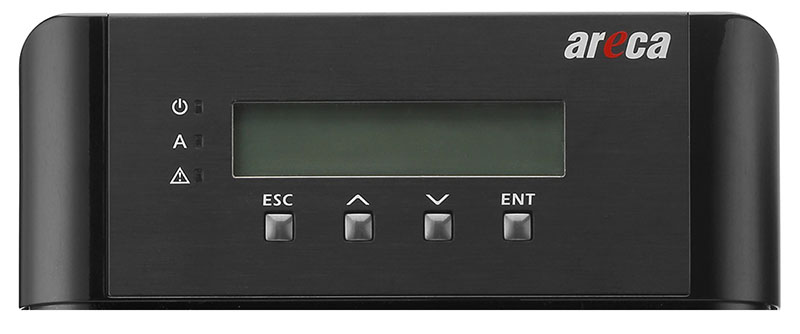 Features
High performance 40Gbps Thunderbolt 3 interface
Support simultaneous 4K in/output workflow
Dual Thunderbolt 3 ports for daisy-chaining
EFI supported for macOS multi-boot
Configuration by the Thunderbolt/LAN port/LCD
1m 40Gb/s active Thunderbolt™ 3 (USB-C) cable included
Advanced configuration for video optimized performance settings
Delivers enterprise-class data protection and security
Controller-level hardware encryption (not available for 4-Bay)
Intelligent power On/Off function for data integrity
Support BBM option for cache protection (not available for 4/6M model)
Hard drive firmware update all at once