CalDigit USB-C Pro Dock
CalDigit Docking Station with USB-C, USB (3.2) Type-A, Thunderbolt 3 and Dual 4K Connectivity. The Pro Dock will connect to any Thunderbolt-3 or USB Type-C port.
No drivers. No Adapters. It just works!
Call us for price and lead time on 0207 291 0890.
Description
Universal Compatibility
Tired of checking if your dock is Thunderbolt 3 or USB-C even though they share the same connector?
Wish that both protocols would work together regardless of what laptop you have?
CalDigit has solved this challenge and developed the USB-C Pro Dock. A next-generation dock that will adapt to any USB-C (Type-C) laptop it connects to.
No drivers. No Adapters. It just works! The days of checking Tech Specs are gone.
Charge your laptop, add devices and light up dual monitors, all with a single cable, regardless of your connectivity.
MAC and PC
For the first time ever go from a Mac (Thunderbolt 3) to a Windows PC (USB-C or Thunderbolt 3) or even a USB-C Chromebook without any challenges.
iPad and Tablet Compatibility
It doesn't just stop at computers, the USB-C Pro Dock also works with the iPad Pro, Windows USB-C phones/tablets and Android USB-C phones, delivering a full desktop experience with external monitors, keyboard, mouse, Ethernet, external USB drives and charging.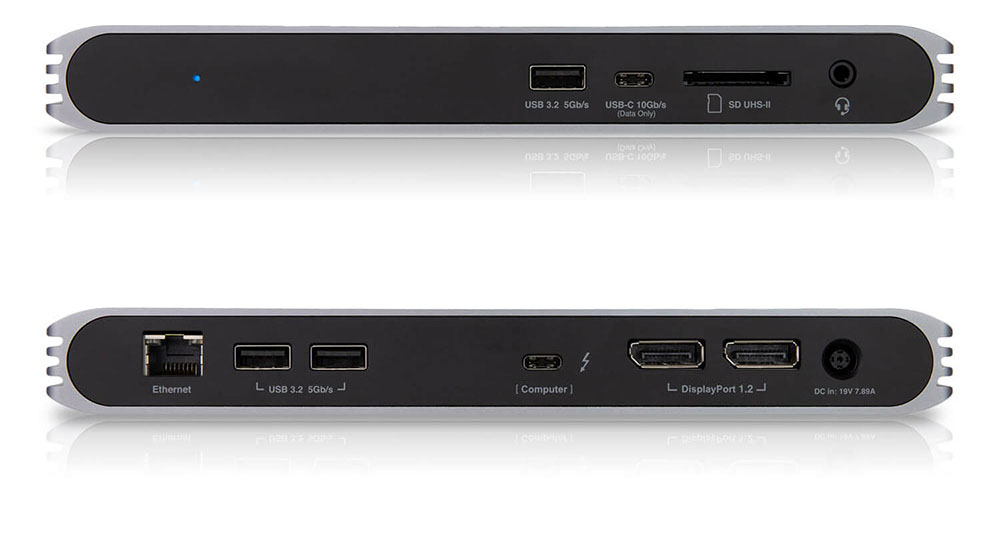 Dual Display Connectivity Built-In 
The USB-C Pro Dock has two built-in DisplayPort connectors for directly adding dual 4K 60Hz monitors to your laptop without the need for any USB-C Video Adapters.​
Need to connect a non-DisplayPort monitor, such as HDMI? Just use an "Active" DisplayPort to HDMI cable.
Fastest SD Card Reader!
Save time and work efficiently with the USB-C Pro Docks' built-in UHS-II Card Reader. Transfer hundreds of large files quickly and easily.
USB-C and USB-A Ports
The inclusion of 4 x USB ports, a mixture of USB-C and USB-A, make it incredibly convenient to connect all your devices with ease. The USB-C Pro Dock also includes a 10Gb/s USB-C port in order to connect ultra-fast SSD storage.
With three additional USB Type-A ports, it is easy to add a keyboard, mouse, microphone, speakers, scanner, printer, or any legacy USB peripheral.
Other Features
Audio In/Out
Connect to iPad Pro
Turn your Tablet or smartphone into a workstation
USB4 ready
Stand Alone Charging
Here is a nice overview of the CalDigit USB-C Pro Dock being used to expand an iPad Pro.