LaCie 2big Dock Thunderbolt 3 (8TB-36TB)
The LaCie 2big Dock Thunderbolt 3 is a Fast, High Capacity RAID storage solution. Not only that but it has memory card slots for SD and CF Memory cards and will charge your device with the front USB 3.0 port.
Transfer Speeds Up To 440MB/s on RAID 0.
£568.80 – £1,593.60
Description
The LaCie 2big Dock is the ideal data storage and workflow solution for video and photography creatives.
Available in the following capacities:
LaCie 2big Dock 8TB (pn: STGB8000400)
LaCie 2big Dock 12TB (pn: STGB12000400)
LaCie 2big Dock 16TB (pn: STGB16000400)
LaCie 2big Dock 20TB (pn: STGB20000400)
LaCie 2big Dock 28TB (pn: STGB28000400)
LaCie 2big Dock 32TB (pn: STGB32000400)
LaCie 2big Dock 36TB (pn: STGB36000400)
Built In Card Reader
The LaCie 2big dock connects all your media peripherals (SD & Compact Flash cards and portable USB drives) to your computer with just one cable eliminating the need for using extra card readers and taking up extra ports on your laptop.
Front Features
USB 3.0 port: charge your phone or connect a shuttle drive or digital camera to offload footage or files.
SD and CF card slots: Directly ingest files from your drone, DSLR, GoPro, and other devices with the front-facing memory card slots.
Display Port: Connect to a high-resolution 720-1080p and 4K display.
2big Dock Interface Options
The LaCie 2big dock has the latest Thunderbolt 3 interface (x2) and also a single USB-C port which is backwards compatible with USB 3.0 by using the included USB-C to USB Type-A Cable.
Dual Thunderbolt3: Daisy chain up to 5 additional Thunderbolt 3 hard drives while simultaneously powering your laptop.
High Speed Data Transfer
In RAID 0 the 2big Dock will provide transfer speeds up to 440MB/s, ideal for video editing.
RAID Options
The 2big Dock can be configured in either RAID 0 or RAID 1. The RAID can be set using the LaCie RAID Manager software.
Choose RAID 0 for fast transfer and video editing. This will provide the full capacity but NO redundancy.
Choose RAID 1 to have a secure dual disk system. This will halve the capacity of the unit but provide two mirrored copies of your data.
Enterprise Class Drives
The LaCie 2big Dock contains high quality Enterprise Class Drives (Seagate Iron Wolf Pro, 7200rpm).
5 Year Warranty
All LaCie 2big docks come with a 5 year warranty and technical support is available via a free phone number.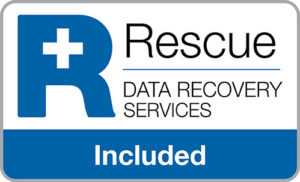 Additional information
| | |
| --- | --- |
| Manufacturer | LaCie |
| Capacity | |
| Disk Type | |
| Drive Bays | |
| Interface | |
| Power | Mains Powered |
| RAID Modes | JBOD, RAID 0, RAID 1 |
| Warranty | 5 Years |
| | |