LaCie 6big Thunderbolt 3
This product has been discontinued by LaCie.
We recommend the SymplySPARK as a replacement product.
Description
The LaCie 6big Thunderbolt 3 is a high-capacity , high-speed, 6-Disk RAID solution ideal for editing and streaming 4K video.
High Capacity Storage
The LaCie 6big Thunderbolt 3 is ideal for storing large amounts of digital media and is available in 24TB up to 108TB Capacities.

Enterprise Class Drives!
The LaCie 6big Thunderbolt 3 contains 6x Seagate Enterprise Class Hard Drives, for superb accessibility, reliability, and robust performance.
Enterprise Class Hard Drives are designed to operate 24×7 on 16-bay racks (instead of 8×5 operations for traditional hard drives) and are rated for 8760 hours of operation per year for extraordinary availability.
LaCie 6big Interface options
The LaCie 6big has adopted the latest Thunderbolt 3 interface (x2) featured on all the latest Apple MAC computers. As well as Thunderbolt 3 the 6big has a single USB 3.1 port Type-C.
Backwards Compatible USB 
USB 3.1 Type C is backwards compatible to USB 3.0 and USB 2.0 by using the USB Type-C to USB Type-A cable. Therefore unlike other 6-Bay RAID hard drives in the market place the 6big can connect to pretty much any USB computer (providing the minimum OS requirement is met)! Ideal if you do not have the Thunderbolt connection on your computer.
Lighting Fast Speeds
Thunderbolt 3 along with the hardware RAID and 7200rpm drives will provide ultra fast read/write speeds of 1400MB/s in RAID 0 and 1200MB/s in RAID 5. Geared towards editing and streaming 4k video, or any application that requires high data throughput.
That kind of speed can slash time off nearly every task in your post-production workflow.
Ingest hours of RAW footage from a Blackmagic cinema camera into Adobe Premiere Pro in a fraction of the time. Then edit multiple streams of ProRes 422 (HQ), ProRes 4444 XQ, as well as uncompressed HD 10-bit and 12-bit video.
Performance Benchmark
Thunderbolt 3 (reads | writes in MB/s):
6big RAID 0: 1400 | 1400
6big RAID 5: 1200 | 1150
USB 3.1 (reads | writes in MB/s):
6big RAID 0: 400 | 400
6big RAID 5: 350 | 350
For big projects packed with high-def clips, thumbnail and preview rendering becomes much more responsive.
Daisy Chain with Thunderbolt 3
With double the video bandwidth of its predecessor, Thunderbolt 3 lets you daisy chain dual 4K displays or a single 5K display to the LaCie 6big. With two 4K displays, you can spread out your work space by dedicating one display to your timeline and the other to previewing 4K footage, for example. It's even possible to power a compatible laptop through the Thunderbolt 3 connection.
6big Supported RAID Levels
Speed / RAID 0
Choose RAID 0 for maximum capacity and speed. Ideal for editing and multistreaming 4k video.
Speed > Security / RAID 5
Choose RAID 5 for speed and security. RAID 5 allows one drive to fail and the 6big will stay online.
Security > Speed / RAID 6
RAID 6 will reduce the overall performance (read/write speed) of the unit but allow up to two drives to fail and it will stay online. Ideal for use as high capacity redundant storage system.
3 Year Warranty
The LaCie 6big comes with a 3 year limited warranty which covers drives, the enclosure, and spare parts. Technical support is also available via phone or email.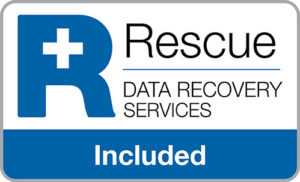 Further Info'
Ideal for editing up to 4K
6-Bay
Contains 6x Seagate Enterprise Class Hard Drives
Hardware RAID 5/6
RAID Modes: 0/1/5/6/10/50
Interface: 2 x Thunderbolt 3 and 1 x USB 3.1
Dimensions: 161 × 225 × 237 mm
Warranty: 5 Years
What's included: LaCie 6big Thunderbolt 3, Power cable, USB-C (Thunderbolt 40Gb/s or USB 3.1 10Gb/s) cable, USB-C to USB-A cable, Hard disks, Quick Install Guide.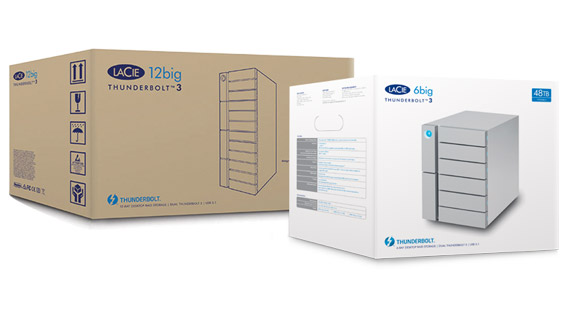 Additional information
| | |
| --- | --- |
| Manufacturer | LaCie |
| Disk Type | |
| Drive Bays | |
| Power | Mains Powered |
| RAID Modes | RAID 0, RAID 5 |
| Warranty | 3 Years |
| Interface | |