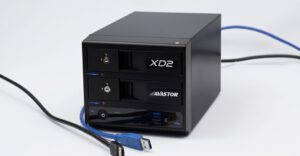 Leading hard drive manufacturer Avastor have released a stylish 2-bay RAID enclosure. Available as chassis only or up to 12TB (2x 6TB inside). The XD2 is designed with professional content creators in mind.
RAID Options
The unit can be configured in RAID 0 (striped for video editing), RAID 1 (mirrored for dual back up) or JBOD (each drive mounts separately). The RAID is fully hardware i.e. no software is used to configure the RAID.
Trayless Design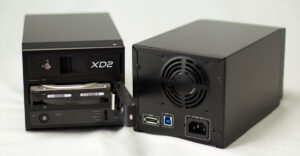 With the Avastor XD2 you can simply slot in your bare 3.5″ SATA drive without the need to put the drive in a tray or caddy. The unit can be purchased either un-populated (without drives) so you can use your own hard drives or with drives inside.
Interface
The XD2 has USB3.0 and eSATA for high speed data transfer or video editing. Transfer speeds are advertised as:
eSATA: up to 370MB/s
USB3.0: up to 350MB/s
Further Info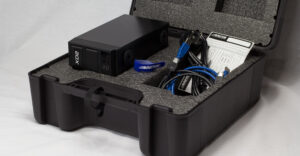 The XD2 has an internal power supply so just requires a kettle lead – no need to worry about losing your propriety power supply. It ships in a heavy duty lock box and comes with a 3 year warranty. We think it's an ideal solution for any one requiring a quick archive or editing solution and is running USB3.0 or eSATA.
For further info' please check the Avastor product page. To pre-order your XD2 please visit our XD2 product page.