Our new G-Tech' accessories page has all the latest G-Technology products including hard drive adapters, protective cases, un-populated chassis and spare power supplies.
G-Dock ev Solo with USB 3.0
First up we have the G-Dock ev Solo enclosure with USB3.0 interface. Designed to take any of the 'ev series' mobile drives including the 'ev RaW', 'G-Drive ATC USB', 'G-Drive ATC Thunderbolt' and 'G-Drive ev SSD'. After using your mobile drive whilst travelling or on location, simply slot the drive into the chassis when you are in the office to convert your transport drive into a static desktop drive.
G-Technology G-Dock ev with Thunderbolt
Next up is the G-Dock solution. Designed with the same principle as above in terms of being able to use interchangeable drives although with the added benefit of RAID functionality and dual Thunderbolt interface (so can be daisy chained). The G-Technology G-Dock can be configured to RAID 0 for high speed editing, RAID 1 for dual back up or JBOD (each drive mounts separately).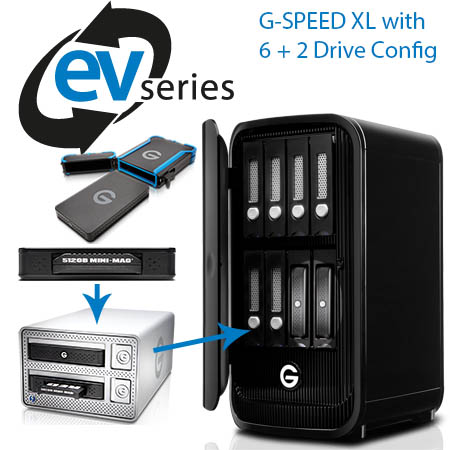 Compatable drives with the above two systems are:
G-Drive ev SSD 512GB (Solid state!)
G-Drive ev ATC with Thunderbolt 1TB

 G-Technology ATC Case
Sticking with the 'ev series' mobile hard drives (listed above) there are two new protective cases which can be purchased separately. These cases will 'ruggedise' your mobile drive! All Terrain Case comes with either USB 3.0 or Thunderbolt connection. The cables are attached (to prevent cable loss) and wrap around the case neatly when not in use. ATC cases protect your mobile drives when in rough terrain or extreme environments e.g. on film location or whilst travelling. They are pressure resistant, float in water, shock resistant and dust resistant!
RED Mini-Mag Card Reader
Another compatible device for the 'G-Dock ev Solo', 'G-Dock RAID' and also the newly released 'G-Speed Studio XL ev' is a card reader for RED Mini-Mag. After a days filming, insert the RED Mini-Mag camera card straight into the reader which will in turn slot in to one of the above G-Docks/G-Speed XL ev. This allows you to quickly transfer your film footage from the card on to your G-Technology HDD or computer via thunderbolt or USB 3.0.
 ev series SATA to Firewire 800 adaptor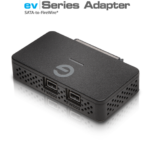 If wish to connect your 'ev series' mobile USB Hard Drive to a computer via Firewire interface, the SATA to Firewire adapter will allow you to do that. It slots on the SATA port on the back of the drive to convert the USB drive in to a dual firewire 800 drive (which allows for daisy chaining).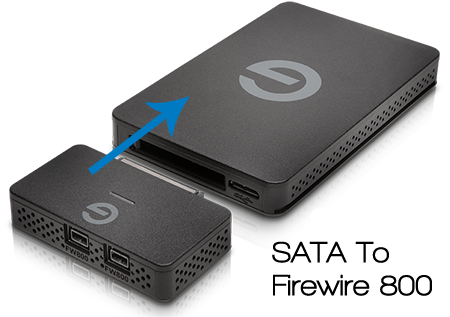 ---